Adding COLORBOND® Steel fence to your Mt. Waverley home will not only provide you with security and aesthetic value, it will also increase your property's value should you have plans for selling it in the near future.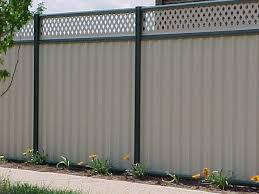 COLORBOND® fencing comes in a variety of colours and sheet profiles, which gives you the flexibility to customise it to your liking. Eastside Fencing can help you not only pick the right shades and sizes but can also help you bring to life your own design by adding a lattice on top to make it more attractive.
As one of the leading fence builders in Melbourne, Eastside Fencing has plenty of experience when it comes to COLORBOND® fencing installations. One of our fencing specialists today will be happy to give you a free quote and a brochure to get you started.
Call Eastside Fencing now on 8802 0402 to get started.
More Fences You May Like